"A Shortcut through 1994"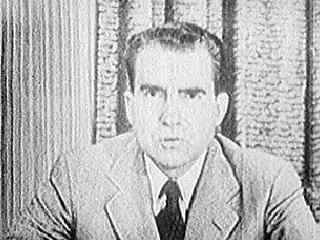 "You won't have Nixon..."
Hop in our white Ford Bronco for a joyride through another incredible year...a breath- taking flight with Cab Calloway, Raul Julia and Harriet Nelson on US AIR with Kurt Cobain as your pilot; Cruise along the sunny coast of Finland aboard the "Love Boat" with Michael & Lisa Marie, Tom & Rosanne, O.J. & Nicole, Madonna & David Letterman, Beavis & Butthead; Sink into obscurity with Mario Cuomo, Macaulay Culkin, Arsenio Hall and Bill Clinton; Skate on thin ice with Tonya Harding & Nancy Kerrigan; Shake & Bake in LA with Judge Lance Ito; Chill out in the Caribbean with the "Boat People", get back to Woodstock with the "Mud People"...It's all here: the strikes and lockouts, the disasters, the elections, poverty and despair...Join Ronald Reagan as he tries to remember 1994 with his friends the Mighty Morphin Power Rangers, Yitzak Rabin, Yasir Arafat, Jesse Helms, Snoop Doggy Dog, Bono, Ollie North, Sonny Bono, Jerry Rubin, Frank Sinatra, Jackie Onassis, Caesar Romero, Bruce Willis, ! Dome nico Modugno, Joni Mitchell, Major Lance, Collective Soul, Telly Salvalis, Rossano Brazzi, Newt Gingrich, Bob Dole, Jean-Bertrand Aristide, Hole, Beck, Bob Dylan, Branford Marsalis, Walter Lantz, Jessica Tandy, Richard Belzer, Samuel L. Jackson, George Foreman, Nirvana, Burt Lancaster, Harry Nilsson, Martin Landau, Dan Quayle, Tommy Boyce, Soul Coughing, Pope John Paul, David Caruso, Spearhead, Tupac Shakur, the Simpsons, John Candy, Pat Riley, Lisa Loeb, John Starks, Juliette Lewis, Woody Harrelson, Wilbert Harrison, Big Audio Dynamite, Dinah Shore, Carmen McRae, Henry Mancini, Jeffrey Dahmer, Jim Carrey, Martha Raye, Dave Marsh, Fred 'Sonic' Smith, Antonio Carlos Jobim, Marion Williams, Melina Mercouri, the Artist Formerly Known As Prince, Tom Hanks, Ralph Fiennes, the Benedictine Monks, Michael O'Donoghue, Phil Rizzuto as "the Scooter" and of course Richard Nixon .
"But you Still have OJ..."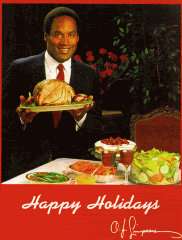 Recorded and mixed digitally on a SADiE workstation ,"A Shortcut through 1994" feature no narration, it's message evolves from the careful juxtaposition of the various elements gathered over the preceding twelve months, mixed with interviews on "What will you remember about 1994?" Each clip shaped on the computer to fit into this audio picture puzzle of the year.

WINNER: 1995 Silver Medal "Best Sound" New York International Radio Festival International
60 minutes/stereo/available now on cassette and compact disc !!
Produced by Peter Bochan
---
Send E-Mail to Peter Bochan

Last Modified: 9/10/99