"A Shortcut through 1991"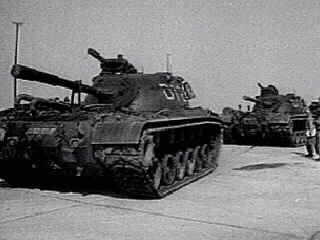 "Fight Them! Brave Iraqis, Fight Them!"
Take an exciting shortcut through the year with fun-filled stops along the way! Climb aboard our SCUD missile for a mid-east vacation you won't soon forget; say hello to Big Boris Yeltsin and say goodbye to the communist party; a lunchstop in Killeen, Texas and then on to Washington for that battle on "the hill" between Anita Hill and Clarence Thomas... Join Pee Wee Herman and his friends George Bush, Red Foxx, Michael Landon, Jesse Jackson, Magic Johnson, William Kennedy Smith, Jesus Jones, Michael Jackson, Dr. Suess, Madonna, Doc Pomus, Sting, Gene Roddenberry, Prince, P.M.Dawn, Ralph Bellamy, Tennessee Ernie Ford, Kevin Costner, Lee Remick, Danny Thomas, the Godfathers, Mikhail Gorbachev, Fred MacMurray, Freddie Mercury, REM, Big Audio Dynamite, Terry Anderson, Terry Waite, Martha & Bill Graham, Yves Montand, Arthur Murray, Harry Reasoner, Ted Kennedy, Leonard Nimoy and Richard Nixon.
A Shortcut thru 1991 was recorded on eight-track multitrack tape @ 15ips, mixed down to a stereo DAT master and broadcast on New Year's eve from 11pm till midnight.

Produced by Peter Bochan
60 minutes/stereo/available on cassette and compact disc
---

Send E-Mail to Peter Bochan
Last Modified: 11/15/98