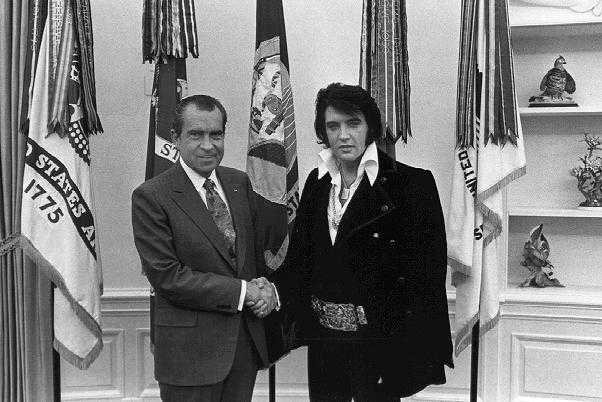 232 Songs about Elvis:
"Abel And Elvis"-Willie "Loco" Alexander
"A Century of Elvis"-Belle & Sebastion
"Advertising Space"-Robbie Williams
"Alcohol & Pills"-Fred Eaglesmith
"All American Boy"-Bill Parsons
"All the Way From Memphis"-Mott the Hoople
"American Roulette"-Robbie Robertson
"A Room at the Heartbreak Hotel"- U2
"Angel"-The Eurythmics
"Angels Song: Dear Elvis Presley"-Kaleidoscope
"Apology"-Chuck Prophet
"Baby Boom Che"-John Trudell
"Ballad Of Elvis And Pricilla" - The Red Elvises
"Baptise Me Over Elvis Presley's Grave"-Flies on Fire
"Bastard Son Of Elvis"-Denzil
"Big As Life" - Hamell on Trial
"Big Train From Memphis"-John Fogerty
"Bigger Than Elvis"-Sonny Burgess
"Black Velvet"-Alannah Myles
"Bloc Bloc Bloc"-O.M.D.
"Blue Moon Revisited"-Cowboy Junkies
"Bones Of Elvis"-Nik Turner
"Boy From Tupelo"-Emmylou Harris
"Bringing Out The Elvis"-Louise Hoffsten
"Bringing Out The Elvis"-Faith Hill
"Burma Shave"-Tom Waits
"Bye Bye Birdie"-Ann Margeret
"Bye Bye Elvis"-Genee Harris
"Bye Bye Johnny"-Bruce Springsteen
"Calling Elvis"-Dire Straits
"Champagne Dreams"-Cybelvis Monroe
"Changes Comin' On"-Alabama
"Chocolate Elvis"-Tosca(Opera)
"Dashboard Elvis"-Bob Lowery
"Dear Elvis"-(with love from)Audrey
"Dear 53310761"-The Threeteens
"The Delivery Man"-Elvis Costello
"Don't Blame It On Elvis"-The Fabulous McClevertys
"Don't Knock Elvis"-Felton Jarvis
"Don't Step in my Blue Suede Shoes"-Clive Gregson
"Elvis"-Big Head Todd
"Elvis"-i AM
"Elvis"-Julie Lang
"Elvis"-Stark Raving Chandler
"Elvis"-superGarage
"Elvism"-Burger Ink
"Elvis & Andy"-Confederate Railroad
"Elvis and Bears"-Red Elvises
"Elvis and His Boss"-The Residents
"Elvis and I"-Denis Leary
"Elvis Christ"-Gothik
"Elvis & Marilyn"-Leon Russell
"Elvis and Me"-The Kids
"Elvis and Me"-Dance Hall Crashers
"Elvis and Me"-Jimmy Webb
"Elvis Ate America"- Passengers (U2)
"Elvis Beats"- Sleepy C
"Elvis, Be True"-Liz Phair

"Elvis Bought Dora A Cadillac"-Wall Of Voodoo

"Elvis Don't Come Back from the Grave"-T.I.D.E.
"Elvis Has Left the Building"-Frank Zappa
"Elvis Imitator"-Jimmy Buffet
"Elvis Inside of Me"-The Strangemen
"Elvis is Dead"-Living Colour
"Elvis Loved His Mama" -Jimmy LaFave
"Elvis is Everywhere"-Mojo Nixon
"Elvis Magic"-Donna Visone
"Elvis, Marilyn and James Dean"-Bellamy Brothers
"Elvis of Maryville"-Cindy Lee Berryhill
"Elvis of the Night"-Evangeline
"Elvis on the Radio, Steel Guitar in My Soul" - The KLF
"Elvis on Velvet"-The Stray Cats
"Elvis Perez"-Lalo Guerrero
"Elvis Presley Blues"-Gillian Welch
"Elvis Presley Blvd"-Billy Joel
Elvis Presley & America"-U2
"Elvis Presley For President"-Lou Monte
"Elvis Presley Heart"-Intensive Care
"Elvis, Satan & Jimmy Page"-Bitch Funky Sex Machine)
"Elvis Slept Here"-Slo Leak
"Elvis Superstar" - Matrimony
"Elvis Was my Daddy"- Crack the Sky
"Elvis Was a Narc"-Pinkart & Bowden
"Elvis' Corvette"-Didjits
"Elvis' Rolls Royce"-Was (Not) Was (with Leonard Cohen)
"Elvis' House"-Figures on a Beach
"Face Down"-Prince (not) Prince
"Female Elvis"-Gods Child
"Fight The Power"-Public Enemy
"Finite=Alright"-David Byrne
"Free Fallen"-Tom Petty
"From Galway to Graceland"-Richard Thompson
"From Graceland to the Promised Land" - Merle Haggard
"Graceland"-Paul Simon
"Graceland"-Charlie Sexton
"Graceland'-Dan Bern
"The Greatest Star Of All" - Skip Jackson
"Halfway to Elvis"-
"Hallucinating Elvis"-Duran Duran
"Happy BirthdayElvis"-Loudon Wainwright III
"Harrow Road"-Big Audio Dynamite
"He Ate Too Many Jelly Donuts"-Rick Dees
"He Was The King"-Neil Young
"Hey Elvis!"-Billy Ray Cyrus
"Hey Memphis"-LaVern Baker
"Hey! Mr. Presley"-Peter De Bree
"Hollywood Situation"-Hudson Brothers
"Home on a Monday"- Little River Band
"Hot for Elvis"-Soulshaker
"Hound Dog Man"- Roy Orbison
"Hypertext Elvis"-Bongo Poets
"I Dreamed I Was Elvis" - Sonny Cole
"I Have Returned"-The Unknown
"I Remember Elvis Presley"-Danny Mirro
I Saw Elvis in A UFO"- Ray Stevens
"I Saw Elvis Presley Last Night"-Gary Lewis & The Playboys
"I Try To Think About Elvis"-Patti Loveless
"I Used To Be Somebody"-June Carter Cash
"I Wish I Could Meet Elvis"-Alex Chilton
"I'm Hanging Up My Rifle"-Bobby Bare
"Idol" by Alton Yi
"If You Don't Know"-George Hamilton IV
"In The Days Before Rock & Roll"-Van Morrison
"It Came From the South"-Al Anderson
"It´s Damn Shame About You"-Lind Espen
"Jesus Mentioned"-Warren Zevon
"Jesus and Elvis"- Greg Brown
"Just Like New"-Wynonna Judd
"King"- Marillion
"The King is Gone"-Ronnie McDowell
"The King Is Gone(and So Are You)"-George Jones

"King of The Mountain"-Kate Bush

"King's Call"-Phil Lynott
"Life Without Elvis"-Bela Fleck & The Flecktones
"A Liddle Biddy Help From Elvis"-Space
"Lights Out"-Lisa Marie Presley
"Little Elvis"-Carnival Art
"Maybe Angels"- Sheryl Crow
"Man in the Moon"-R.E.M.
"Me & Elvis"-Human Radio
"Me And Elvis"-Flying Circus
"Memphis Rocks"-Billy Swan
"Midnight Radio Elvis"-Big Head Todd
"Mighty Big Car"-Fred Eaglesmith
"Moondog"-Prefab Sprout
"My Boy Elvis"-Janis Martin
"My Dog Thinks I'm Elvis"-Ray Herndon
"My My. Hey Hey(Out of the Blue)"-Neil Young
"Nobody Noticed It"-Lisa Marie Presley
Oh Elvis!"-Reed Harper & the Three Notes
"Oh! It Was Elvis"-Carmela Rosella
"Old King"-Neil Young
"105"-Fred Eaglesmith
"On Elvis Presley's Birthday"-Elliott Murphy
"Only Elvis"-Uncle Bonzai
"Outdoor Elvis" - The Swirling Eddies
"Picture Elvis"- Moist
"Pretend I'm Elvis (For Just One Night)" - Terry Taylor
"Porcelain Monkey"-Warren Zevon
"Queen Elvis"-Robyn Hitchcock
"Queen Of Memphis"-Confederate Railroad
"Real Good Looking Boy"-The Who
Redneck Heaven"-Billy Ray Cyrus
"Return of the Grievous Angel"-Gram Parsons
"Return Of The All American Boy"- Billy Adams & The Rock-a-Teers
"Riding With The King"-John Hyatt
"Scotty Moore,Bill Black and Elvis"-Aztec Two-Step
"Small Town Saturday Night"-Hal Ketchum
"The Sock" - The Valentines
"Sometimes I Feel Like Elvis"-Wynonna Judd
"Stranger Than You"-Joe Jackson
"Summer Days"-Bob Dylan
"619-239-KING"- Mojo Nixon
"That's Why"- John Gorka
"Tennessee Hero"-Johnny Wakelin
"Tennessee Plates"-John Hiatt

"The Class"-Chubby Checker
"The Elvis Blues"-Otto Bash
"The Elvis Thing"-The Tractors
"The Elvis Presley Express"-Carl Perkins
"The King Is Coming Back"-Billy & Eddie
Thee kimg iS coMINF;
"There's A Guy Works Down The Chip Shop Swears He's Elvis" -Kristy McCall
"The Story of Elvis Presley"-Jim Ford
"The Gift of Elvis"-The Problems
"The Windfall (Everything For Nothing"-Joni Mitchell
"Too Tired to be Elvis"-Heather Eatman
"Tupelo"-Nick Cave
"Tupelo, Memphis Flash"-Jerry Reed
"Tupelo's Too Far"-Ronnie McDowell
"Turning Into Elvis"-KYF Breweer
"Uncle Sam's Call" - Jimmy Woodall
"Velvet Presley"-The Wildhearts
"Wake Up Elvis"-Alan Charing
"Walking in Memphis" -Mark Cohen
"Wendy Under the Stars"-Odds
"Went to See the Gypsy"-Bob Dylan
"What is This Generation Coming To?"-Robert Mitchum
"What Would Elvis Do?"-Cee Cee Chapman
What Would Elvis Do?"-Rev. Billy C. Wirtz
"Where's Elvis"-Paul Mousavi
"White Man's Melody"-Cyndi Lauper (Largo)
"Who Shot Elvis?"-Mecca Normal
Wrong Side of Memphis-Trisha Yearwood
"Yabba Dabba Do"-The Earls of Suave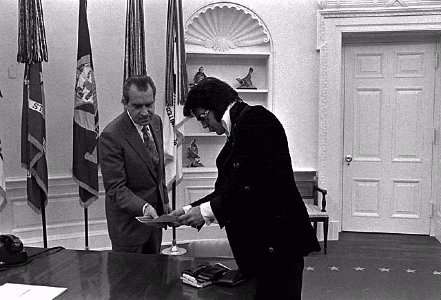 These Are Also About Elvis:
"The King & I"-The Residents
"The Last Temptation of Elvis"-Various Artists/Covers
"To Elvis, With Love" 1992 Live Gold Production, Inc
"Honeymoon Hotel"-Sountrack /Various Artists/Covers
"Elvis Mania"-Tribute Songs (2 Volumes)
"It's Now Or Never"-Tribute Covers
"Heartbreak Hotel"-Stan Freberg
"Un-Led-Ded"-Dread Zeppelin
"A Date With Elvis"-The Cramps
"Bye Bye Birdie!"-Musical
"Bugs & Friends Sing Elvis"-Rhino
"Mystery Train"-Jim Jarmusch Film
Elvis Costello, Mojo Nixon, Elvis Hitler,
Anything by Billy Idol,Chris Isaak,Ral Donner,Gene Vincent,
Ricky Nelson,The Stray Cats,The Cramps,Dread Zeppelin,etc...
---

---
"A Few Songs About Nixon"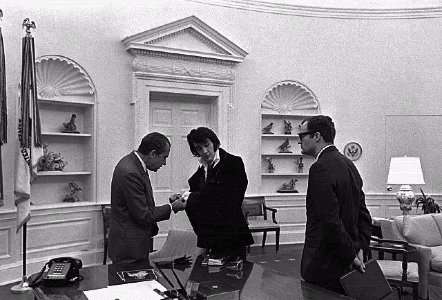 "Campaigner"-Neil Young
"1974"-Robyn Hitchcock
"Bad Luck" -Harold Melvin & the Blue Notes
"Fish Ain't Bitin"-Lamont Dozier
"Give Me Some Truth"- John Lennon
"Here's to the State of Richard Nixon"-Phil Ochs
"If I Had A Friend Like Rosemary Woods"-Bill Horwitz
"Let It Fall Down"-James Taylor
"Line 'Em Up"-James Taylor
"Mexico"-The Jefferson Airplane
"Moody Richard(The Innocent Bystander)"-Dan Hicks & His Hot Licks
"Nixon's the One"-Mono Puff
"Nixon's the One"-Victor Caesar("68 Campaign Song)
"Nixon In China"(Opera)-John Adams
"Ohio"-Crosby,Stills, Nash & Young
"Pretzel Logic"-Steely Dan
"Richard Nixon"-Christmas
"Richard Nixon"-Ultra Prophets of Thee Psykick Revolution
"She Smiles Like Richard Nixon"- Bad Examples
"Sweet Home Alabama"-Lynyrd Skynyrd
"The '68 Nixon"(This Year's Model)-The Chad Mitchell Trio
"Tricia Tell Your Daddy" - Jay & The Americans
"Tricky Dicky"-Country Joe McDonald
"Trust Me"-The Borg
"Watergate Blues"-Howlin' Wolf"
"Watergate Blues"-Gil Scott-Heron
"The Watergate Story"-Dan Murphy
"You Don't Have Nixon..."-Reprise Records(1966?)
"Young Americans"-David Bowie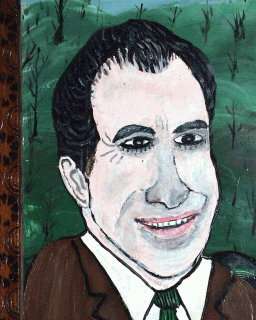 "Nixon's Greatest Hits"
"The Checkers Speech"(1952)
"Nixon/Kruschev Debate"(1959)
"Concession" (1962)
"Resignation"(1974)
-All the above on Rhino's:"Great Speech's:20th Century" Box Set
David Frye's "Richard Nixon: A Fantasy"
David Frye-"Richard Nixon-Superstar"
David Frye-"I Am The President"
The Firesign Theatre: "The Breaking of the President"
Phil Austin: "Roller Maidens From Outer Space" (Nick Exxon)
Original Cast-"Sing Along with JFK...Laugh Along with Nixon" (Reprise)
Richard Belzer- "Nixon & the Godfather" ("Another Lone Nut")
David Frost:"The Nixon Interviews" (Polygram Box Set)
National Lampoon:"The Missing Tapes"
Marty Brill-"The Missing Tapes"
Earl Dowd-"...Very Last Nixon Album"
"Watergate"-Dickie Goodman
"Help / We Can Work It Out"-Dicky & The Wateergate Bugs
"A Shortcut to the Simple Truth"-The Nixon Montages (4 Volumes!)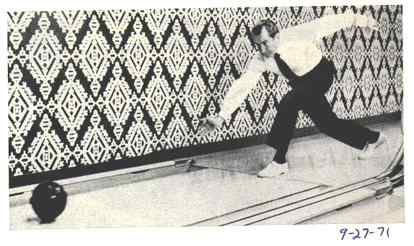 ...What Would Elvis & Nixon Have Listened to?"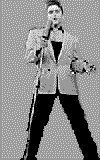 Saturday Afternoons from 5 to 7 pm
WBAI 99.5 FM New York City
all mixed up with Peter Bochan


---


If you have more Elvis & Nixon songs E-mail us!

---

Send E-Mail to Peter Bochan

---

200 Hundred Cadillacs

---




Last Modified: 11/04//05