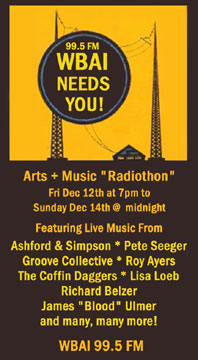 Live@BAI v.5.0
1. The Professor & Maryann- "A WBAI Song"
2. Damien Rice-"Volcano"
3.Christopher O'Reilly-"Karma Police"
4.Elbow- "BAI-Good Advice, Sound Advice"
5. Mia Doi Todd- "The Fiddle & The Drum"
6.Rodney Crowell - "Earthbound"
7. Hooverphonic-"Club Montepulciano"
8.Morricone Youth-"Arabesque"
9. 8 & 1/2 Souveniers-"Bei Mir Bist Du Schon"
10.The Bad Plus- "Smells Like Teen Spirit"
11.Antibalas-"Uprising"
12. The Coffin Daggers-"Forgotton Prisoner"
13.Garland Jefferys-"96 Tears"
14. Delbert McClinton- "Smooth Talk"
15. Super Furry Animal- "Hello Sunshine"
16. Jeff Black- "Birmingham Road"
17. The Professor & Maryann-"For A Day"
18. Bertrand Burgalat- "Ma Rencontre"
19. The Cato Salsa Experience-"Love Sick"
20. Johnny Dowd- "Worried Mind"
21. The New Memphis Mafia- "All Mixed Up"
recorded live @WBAI from 1996-2003 by Peter Bochan
click here or on the poster above to become a member of wbai!

---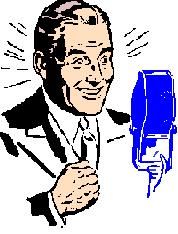 BEST of BAI - Track Listing:
1. Paul Robeson (Columbia University Mix)
2-7. Early WBAI voices1960's:
2. first general manager (?) then Steve Post & irate caller, Larry Josephson, Charles Pitts & another outraged caller; Radio Music..
3. Dale Minor, Chris Albertson, Bob Fass, program announcements, Post, first pitch, Marshall Efron, NYC Parks Commisioner talks about waking up to WBAI, Josephson, Chris Koch and others
4. early marathon, music, Chris Albertson asks for $25,000, Arlo Guthrie- a 1967 WBAI song, mid-60's staff sings pledge # -Oxford 7-2288
5. Julius Lester talks about WBAI being taken for granted...James Irsay and the program announcements (early 70's), Gary Fried & others,
Oxford 7-2288 sung to the Ballad of the Green Berets, various phone numbers (Subscription Shortcuts)
6. Brother Marsh asks for money "Save Our Station, WBAI the program station of revolutionaries & activists..." Mark Spector, Ira Weitzman, Richard Harris, Micky Waldman, Firesign Theater, Geoff Muldaur-"99 & A Half"
7. Louis Schweitzer talks about WBAI "...You're tuned to Hifi,"
8. Pacifica@50 part one: Harry Truman, Pacifica call letters, Lew Hill, Samori Marksman, Verna Avery Brown, Alan Watts, Matthew Lazar, Gore Vidal,
9. Pacifica@50 part two: William Mandel @ HUAC, Joseph McCarthy, I. F. Stone, Paul Robeson, Lawrence Ferlingetti, Joan Baez, JFK, Che Gueverra, Chris Koch, Malcolm X, William Kunsler, Rosa Parks
10. Pacifica@50 part three:MLK Jr, Robert F. Kennedy, Abe Ribacoff, Bob Fass, Eldridge Cleaver, Richard Nixon, Patty Hearst,.
Bella Abzug, Cesar Chavez, Oliver North, George Bush, Saddam Hussein, Amy Goodman, Fidel Castro, Bill Clinton, Louis Farrakan, Mumia Abu-Jamal, Tom Brokaw
11. Village Voice WBAI review. January 1960 (read by Steve Post)
12. Sam Cooke, The Gospel Truth (opening montage)
13. Dale Minor, Report From Vietnam
14. WBAI News : Patty Hearst, Iran, Three Mile Island, Nicargua-Robert Knight
15. "Let's Hold Our Wallets!"- Al Sharpton & Wyclef Jean & the Fugees (41 Shots)
16. "The Big Payback"-James Brown montage
17. New York Times, January 11th, 1960 -WBAI, Pacifica story
18. Building Bridges "Unsealing Mississippi's Past:"- Ossie Davis, LBJ, David Engridbretzen, the Director of the Misssissippi ACLU; Rita
Schwerner Bender, the widow of slain civil rights activist Michael Schwerner; Michael Moore, the Attorney General of Mississippi; and Vernon Dahmer, Jr., The Melodians.
19. What do the letters WBAI stand for? (early listener pitch, history of station commentary and subscription ideas)
20. Samori Marksman -epilogue
---