all mixed up
October 2000 Playlists
WBAI 99.5 FM, New York City, Monday mornings 10am - 12 noon, with Peter Bochan
2 9 16 23 30
Artist
Title
Label
Quentin Crisp
Music is a Mistake...
Live@BAI
Guy Lombardo
Enjoy Yourself
Decca
Various Artists
Totally Albanian Promo
All Mixed Up Productions
A3
Woke Up This Morning
DGC/Mixed Up Edit
G-Love & Special Sauce
Rodeo Clowns
Epic/Okeh
Saint Etienne
Don't Back Down
Sub Pop
Last Forever
Duke of Earl
Nonesuch
Tom Waits
Big In Japan
Epitaph
Jona Lewie
I'll Get By In Pittsburgh
Stiff
Howling Wolf
Sitting On Top Of The World
Chess
Jimmy Reed
Found Joy
Vee Jay
Gene Chandler
Duke of Earl
Rhino
The Specials
Enjoy Yourself
2 Tone/Chrysalis
Mr. Scruff
Get A Move On
Ninja Tune
Sam Cooke
That's It I Quit, I'm Moving On
RCA
Vic Reeves
Empty Kennel
Sense/Island Import
Joe Jackson
Stranger Than You
Sony Advance
Billie Holiday
As Time Goes By
Commodore
Jill Scott
You're Getting In The Way
Epic
Chester
This I What I Know
Hidden River/Rykodisc
Radiohead
Optimistic
Capitol
Rickie Lee Jones
Show Biz Kids
Artemis
Howard Fishman Quartet
Limehouse Blues
Live@BAI
Hey Little Girl/Time Will Tell
Dreams of You/Pretty Polly
Live@BAI
Geoff Muldaur
Kitchen Door Blues
Hightone
Martin Denny
Aku Aku
Rhino
Sven Kirsten *Live Interview
The Book of Tiki
Tashen
'South Pacific'
Bali High
Sony Broadway/Legacy
The Coasters
Idol With The Golden Head
Atco/Rhino
Fats Waller
The Jitterbug Waltz
RCA Victor
various artists outro
WBAI Bye Bye Bye
All Mixed Up Productions
Artist
Title
Label
Fountains of Wayne
All Mixed Up Song
Live@BAI
John Lennon
60th Birthday Tribute (montage)
All Mixed Up Productions
The Beatles
Happy Birthday
Apple
Hybrid
Opening Credits
Kinetic/Reprise
Donny Hathaway
Jealous Guy
Atco (Vinyl Only-1972)
The Beatles
I'm Only Sleeping (rehearsal/take 1)
Apple ('Anthology Vol. II')
Les Miserables Brass Band
Being For the Benefit of Mr. Kite
Knitting Factory
Monsoon
Tommorrow Never Knows
EMI Import
Travis
Give Me Some Truth
Epic EP
John Lennon
Love (alternate version)
Capitol Box
Asie Payton
I Love You (solo)
Fat Possum
Keb Mo
It Hurts Me Too
Epic/Okeh
Bonnie Raitt
It's All Over Now, Baby Blue
'Steal This Movie" Soundtrack
Johnny Cash
I Won't Back Down
American (advance)
Patti Larkin
Ruby Tuesday
Vanguard
Johnny Cash
Solitary Man
American (advance)
Cat Power
(I Can't Get No) Satisfaction
Matador
Emmy Lou Harris
Here, There & Everywhere
Reprise
Johnny Cash
One
American (advance)
The Vipers
No Other Baby
Bear Family Import
Paul McCartney/Johnny Society*
No Other Baby
Capitol/Live@BAI*
Johnny Society
Blue Plastic Bag/Sexy Sadie/
Mexican Sunset/WBAI Song
I'm On;ly Slleping
ICollect The LEaves/Hard To Care
Live@BAI
Tom Waits
Hold On
Epitaph
Warren Zevon
Porcelin Monkey (live acoustic version)
Artemis Promo
Flaming Lip
WBAI Song
All Mixed Up Production
The Ink Spots
That's When Your Heartbreak Begins
Decca
various artists outro
WBAI Bye Bye Bye
All Mixed Up Productions
---

October 16

Giovanni Sollima
Artist
Title
Label
Hank Penny
Crazy Rhythm
Bloodshot Revival
Gavin Bryars/Richard Belzer & Various Artists
The All Star ID
All Mixed Up Productions
Chiefs of Relief
Radiohead
Popsicle Pete
Everything In It's Place
Irma States
Capitol
The Penniless Wildes
Long, Long Ride
Live@BAI
P.J. Harvey
A Place Called Home
Island (advance)
Tin Hat Trio
Fires of Ada
Live@BAI
Giovanni Sollima
Viaggio in Italia
Live@BAI
Friend 'n Fellow
Purple Haze
Ruf
Samite
Kalimba ID
Live@BAI
PJ Harvey
Highway 61
Live@BAI
Church of Betty
Hide Your Love Away
Live@BAI
Membership Mantra #1
Join Us Comrades!
Pitching Break
Luna
City Kitty
Live@BAI
Hooverphonic
Club Montepulciano
Live@BAI
Heather Eatman
Bebop-a-lu-la Bai
Live@BAI
Loser's Lounge
Up On The Roof
Live@BAI
Intrigue
Accapella ID
Live@BAI
Membership Mambo #2
Moz-Art (Less Music)
Pitching Break
Martha Wainwright
Station to Station
Live@BAI
Madeliene Peyroux
Long Gone Lonesome Blues
Live@BAI
Dirt Ball
Whiskey & Wild Women
Live@BAI
Dan Bern
WBAI Song
Live@BAI
Mr. Scruff
Get A Move On
Ninja Tune
The Dynamic Duo
Matthew & Most Eclectic One
Pitching in the later Innings
Joseph Arthur
Invisible Hands
Live@BAI
Chill Out Cafe
Background grooving stuff
to Pitch Over
Unknown Guy
A Sound letter to Hawaii
Home Recording from October 18, 1945
Leon Bibb
Angel
Ruf
October 23



Fall Membership Moments

---

October 30

The Hangdogs!
Artist
Title
Label
The Wisdom of Harry
Hello?
Matador
The Hangdogs
Various Artists
Political id
Miracle Intro
Live@BAI
All Mixed Up Productions
Pepe Deluxe
Three Times A Player
Emperor Norton
Radiohead
Everything In It's Place
Capitol
Geeorge W. Bush/Buscemi/others
Your Turn Now Love (Put to Death Mix)
All Mixed Up Productions
P.J. Harvey
Big Exit
Island (advance)
Friend 'n Fellow
Purple Haze
Ruf
Roy Budd/Full Vision
Get Carter (Full Vision Remix)
Castle Music/Import
Pepe Deluxe (w/Nina Simone)
Woman in Blue
Emperor Norton
Planet E
Freeze
!K7/Klein
Badly Drawn Boy
The Shining
XL Recordings
Instrumental
Moonshaker (Acoustek)
Angel
Yo Yo Ma
Cello Suite no. 1 (Inspired by Bach)
Sony Classical
Tape Player Announcer
A World of Sounds
Fisher Price
Charles Mingus
Goodbye Pork Pie Hat
Legacy (Ken Burns "Jazz")
Johnnie Lawrence (GI ?)
A Sound letter to Hawaii
Home Recording from October 18, 1945
Love Spit Love
November
Warner Brothers
Joni Mitchell
Cherokee Louise
Geffen
Emmylou Harris
Red Dirt Girl
Nonesuch
Merle Haggard
I Take A Lot A Pride In What I Am
Razor & Tie
The Hangdogs
Beware of Dog
Shanachie
The Hangdogs!
The Gun Song/Out There
Fire in The Hole/Anacosta
Live@BAI
Johnny Cash
Solitary Man
American
Gary Lucas
The Wall (Chinese Pop Tunes-30's -50's)
Oxygen Advance CD
Gary Lucas *interview
'Songstress on the Edge of Heaven'
Live@BAI
Gary Lucas & Peter Stampfel
Astroboy
Knitting Factory
various artists outro
WBAI Bye Bye Bye
All Mixed Up Productions
---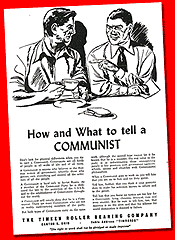 "Join Us Comrades!"

with Peter Bochan
Monday mornings 10 am - 12 noon
WBAI 99.5 FM New York City

Send E-Mail to Peter Bochan
Last Modified 11/30/2000